Table of contents
In 2004 Pluralsight was founded as a classroom training company involving sending instructors to a business or training event and by 2007 the company shifted its approach to online video training.
It has an expanded library of over 7000+ courses taught by one of its 1,500+ expert instructors. Pluralsight is a technology skills platform focusing on developing tomorrow's skills.
What is PluralSight
Pluralsight is a provider of paid course subscription services that welcomes both novices and experts. Users can Access a variety of information for a monthly subscription. The courses are of quite a high caliber. Since you get complete access to their library of more than 6,000 courses and can choose the one you're working on at any time, there are courses taught by authorities in their fields.
Features
If you subscribe to Pluralsight, you may take advantage of various valuable services. Some of these are exclusive to Pluralsight, but many of these are equivalent to ones you might find on competing e-learning providers.
For example, almost every course on Pluralsight (there are already close to 5,000!) includes downloaded exercise files that you may use to continue practicing after you log out. You can attend classes while you're on the road thanks to the Pluralsight mobile app, which also lets you download them for offline viewing so you don't need an Internet connection.
Daily course additions are added, and signing up for a subscription is simple. If your business or organization uses Pluralsight, all of your team members can sign on using the same credentials and have limitless viewing time. this
Pluralsight for business
Pluralsight provides three different team plans for corporations in addition to individual learner programs. You have the opportunity to select the plan that best suits the requirements of your team because the plans' prices and features differ. The Starter package is the most fundamental one and focuses on upskilling your employees with the essential courses. The Professional plan, which provides basic reporting and user analytics for the team, is next on the list of prices and features, followed by the most detailed plan, the Enterprise, which gives you freedom and advanced analytics.
Pricing
Pluralsight pricing plans are subscription-based offering courses for Novice, Proficient, and Expert learners. Its individual pricing plans have a couple of subscriptions that you can pay for either Monthly or Yearly.
Standard: The monthly subscription is $29 and yearly subscriptions are $299. You will have access to the Core course library (2,500+ courses), paths, and skill assessments. A 10-day free trial is included.
Premium: The monthly subscription is $45 and the yearly subscription is $449. You will have access to the expanded course library (7,000+ courses), exams, projects, and hands-on learning. A 10-day free trial is included.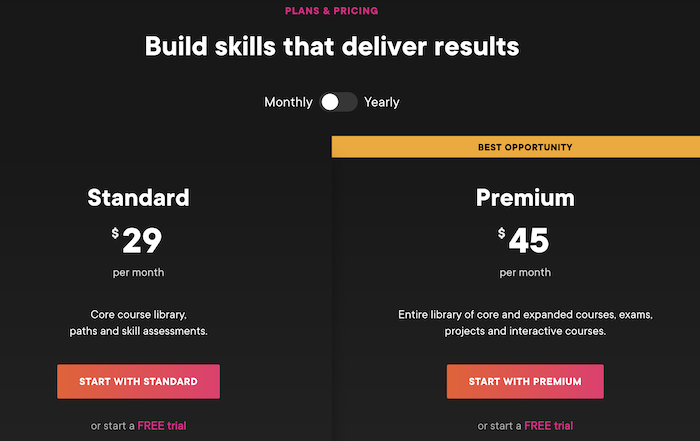 Pluralsight Individual Monthly & Yearly Plans
The free trial period for any of the above subscriptions are for 10 days or 200 minutes of content whichever comes first. To sign up for a free trial click here.
Pluralsight Team
Pluralsight also offers 3 different subscription plans for teams and businesses and teams with a minimum of 2 users. Its 3 plans are as follows:
Starter: You'll pay a yearly subscription of $399 per user a year. You will be able to upskill your team with access to the core library (2,500+ courses)
Professional: You'll pay a yearly subscription of $579 per user a year. This includes basic reporting and user analytics for teams. A team trial is available with 10 subscriptions.
Enterprise: You'll pay a yearly subscription of $779 per user a year. This includes flexibility and advanced analytics for the enterprise. A pilot is available on request to try out this plan.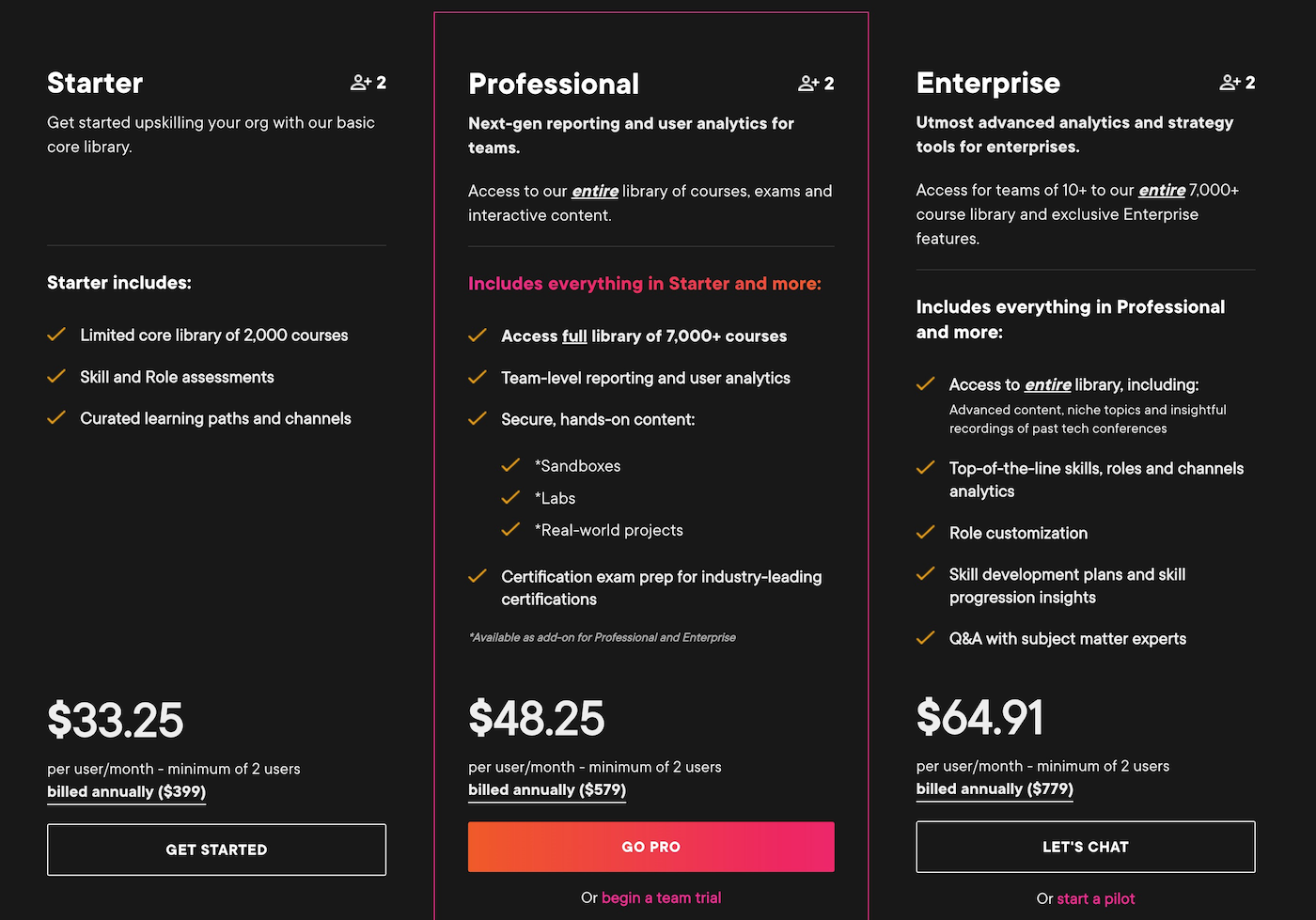 The Professional and Enterprise plan both offer a 14-day free trial which you can check out here.
Pros and cons
Pros
Free Trial
Good Support
Free Account
Course Learning Checks
Offline Downloading
Final verdict
Several factors will determine whether or not you benefit from Pluralsight, in my opinion.
Personally, I feel that the website should have been simpler to use and that, despite the benefits of having so many independent instructors, there was some quality variation.
However, Pluralsight truly excels at instructing those who have a little more knowledge in their field of study and a desire to learn more.
This is the case since there are so many courses available, allowing you to delve deeply, and the variety of instructors also enables this.
Additionally, you can truly refine your skills thanks to the abundance of learning resources available, like Labs, Pathways, and Skills IQ.
Therefore, Pluralsight is ideal if you're looking to add a few lines to your CV, especially if you're interested in the industries of business analysis, software development, and security.
Remember that the first ten days are free as well!